Terminator Titanium T1 Colorado/Willow Spinnerbait *DISC*
Terminator Spinnerbaits have been go-to lures in anglers tackle boxes for over 15 years. The Terminator Spinnerbait is the perfect imitation of a school of baitfish. These spinnerbaits include a unique changeable silicone Quickskirts, and the patented SnapBack Titanium wire frame which provides the truest-running, longest lasting spinnerbait. The Titanium T1 has the exclusive beveled edge blade design along with Premium VMC hooks.

******DISCONTINUED ITEM******WHILE SUPPLIES LAST!!!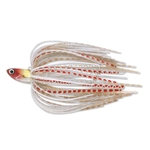 Clown-Nickel/Gold Blades