Big Bite 10" Kriet Tail Worm 8ct
The Big Bite Kriet Tail Worm was designed with a stickworm style body and a special tail that swims at any speed or condition. The Kriet Tail Worm can be used in grass, wood, or ledges in deep or shallow water.
"This is the best big worm, I have ever used", Jeff Kriet. Tilapia *DISC*
KTW10-KTW10-04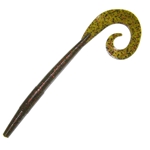 Watermelon Red Flake *DISC*
KTW10-09