Spro McStick
    The Spro McStick 95- 3/8oz was designed by professional BASS fisherman Mike McClelland to be a smaller version of the hugely successful Spro McStick 110. The McStick 95 comes with two #4 premium Gamakatsu treble hooks and a weight transfer system will help your ability to cast this bait on spinning or bait casting gear. With its darting action and longer casting capability the McStick 95 will make a great addtition to your tackle box.
    The Mike McClelland Signature Series McStick 110-1/2oz jerkbait is designed for the tournament angler. It has 3 sticky sharp Gamakatsu #5 trebles that insure solid hook ups. The McStick 110 is designed to suspend at lower water temperatures for those finicky early and late season fish, and it is a bait that is very easy to adjust for those aggressive warmer season fish. This bait is designed by McClelland to help everyone catch more fish year around on a jerkbait.
     The Spro McStick 115- 1/2oz was designed by Pro Angler Mike McClelland to be a slow floating shallow diving jerk bait. The McStick 115 features 3 sticky sharp Gamakatsu treble hooks and dives 0-3 feet with a tantalizing action that big fish cannot resist.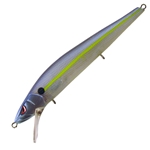 Blue Bandit Clown*DISC*